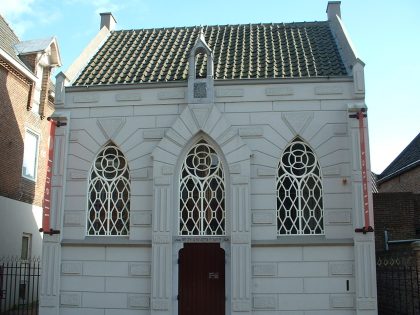 Several Jewish families settled in Veghel during the 18th century (around 1731) despite the opposition of local authorities. Most of the Jews who settled in Veghel came to the village from nearby Nistelrode or Dinther. During the second quarter of the 19th century, an organized Jewish community was established in Veghel.
The community at Veghel opened a synagogue on the Achterdijk, the present-day Deken van Miertstraat, in 1832. The synagogue was restored in 1866 with the help of a subsidy from the village council. The synagogue was renovated anew in 1930 and again in 1938.
In 1886, as the Jewish population of Veghel approached its peak, a  Jewish school was built on the Bolkenplein. This same square housed a kosher meat market. The school's teacher also served as the community's cantor and ritual slaughterer. At the time, the community was governed by a board consisting of three members. The board also supervised religious education. Other community officials included a treasurer for the collection and disbursement of funds to the Jewish community in Palestine. Voluntary organizations included a burial society and a society for the maintenance of the synagogue. The international Jewish relief organization Alliance Israélite Universelle maintained a branch in Veghel. The Jewish community of Veghel, together with those of Sint Oedenrode and Uden, buried its dead at the Jewish cemetery in Schijndel.
During the World War II almost half the Jews of Veghel were deported and murdered. The remainder escaped abroad or survived the war in hiding. A local organization made it possible for approximately 20 Jewish children to hide in the surroundings and escape deportation and death. Some of the Torah scrolls and ceremonial objects from the Veghel synagogue were taken to Amsterdam and hidden; the remainder was robbed by the Germans. A few silver objects buried for safekeeping in the garden of the synagogue also were recovered after the war.
Of the 13 Jewish families living in Veghel prior to the war only three returned. The Jewish community at Veghel was administratively dissolved in 1947 and the locale placed under the jurisdiction of the Jewish community at Oss.
Restoration of the  former synagogue on the Deken van Miertstraat was finished in 2002. In 2003, a plaque inscribed with a biblical passage (Isaiah 56:5) in memory of the murdered Jews of Veghel was affixed to the wall of the building. A memorial stone at the Jewish cemetery at Schijndel is inscribed with the names of Jews from the surroundings murdered during the war. The former synagogue now houses a lunchroom.
Source: Jewish Historical Museum, Amsterdam