Romi Goldmuntz Synagogue
Van Den Nestlei 2 2018 Antwerp, Belgium
Makhzikei HaDas Synagogue
Jacob Jacobsstraat 22 2018 Antwerp, Belgium
Beth HaKnesset Portugeese
Hoveniersstraat 32 2018 Antwerp, Belgium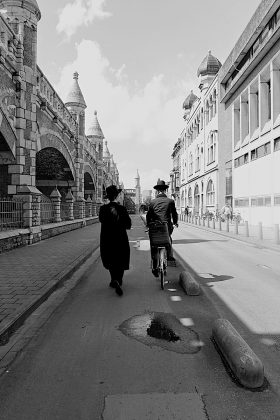 The last real shtetl in western Europe, Antwerp is known for its Orthodox Jews and its diamonds industry. Approximately 80% of Antwerp's Jewish population makes a living from the diamond industry. More than half the world production of diamonds passes through these few streets near Centraal Station. The diamond centers, which can be visited, also serve as meeting places where ongoing debate takes place over the social, cultural, and political issues affecting the Jewish community.
The synagogues
There are six Ashkenazic rite synagogues in Antwerp. The biggest is  Romi Goldmunz, whose world-famous cantor is Benjamin Muller. The Shromei ha-Das (Guardians of the Law) Synagogue, with over 6000 members, and the Israelitische Gemeente van Antwerpen, founded in 1904, represent the city's Jewish community.
Next come the more Orthodox communities, united under the  Makhzikia organization. This includes all the current in the Hasidic movement, such as the Satmaer, the Gourer, and the Sanzer. In Europe, only London's Stamford Hill can offer comparable diversity.
The Sephardim meet in their synagogue opposite the Diamond Exchange. Antwerp's  Portuguese-rite Israelite Synagogue (Beth HaKnesset Portugeese) includes some 300 families and has been swollen by the arrival of numerous Israelis. A plaque on an outside wall commemorates the victims of the 1987 terrorist attack, which was claimed by a Palestinian group.
The Kosher pleasures of Yiddish Town
Yiddish Town, also known as "Pelikan", from the name of one of its main streets, is located around Centraal Station. Here, at the back of the houses or in arcades, you can find various restaurants and delicatessens usually bearing the name of the family owners. Apart from USA Pizza on the Isabellalei, none of them have views onto the street, but all offer prayer books.
Malka, located in the Diamond Exchange, is exclusively for employees and clients of the Diamantkring (Diamond Circle). The cooking is glat kosher -dairy products only. Breakfast is served until 10.30 AM. Throughout the day, you can enjoy drinks and pastries in the diamond merchants' hall outside the restaurant.
Walking around here, one would not guess that access to the  Dresdner is through the butcher shop. This leads to a galleried yard at the back of which stands a small modern restaurant. The cloakroom, where long traditional coats, black hats, and prayer books are left by the tables, gives an idea of the place's great orthodoxy.
Also worth noting is the excellent  Blue Lagoon. Located in the Diamond District, this is Benelux's one and only kosher Chinese restaurant.
Antwerp has a large number of butcher shops, bakeries, and stores specializing in typical Jewish products. Be sure to stock up some cakes and pastries at  Kleinblatt and  Steinmetz.