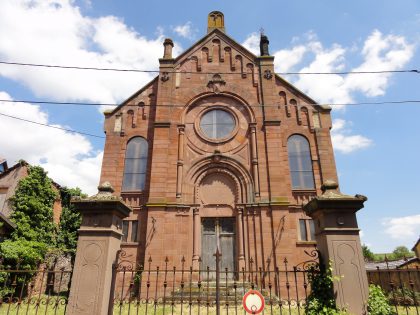 The Jewish community of Balbronn is registered in the censuses of the city since 1665. Some medieval houses of the city center still bear the traces of mezuzot.  The old synagogue is located 47-48 Balbach street, in what is commonly called "House of the Jews". The house dates from 1638, although it started serving as a synagogue only in 1730. The prayer hall was on the first floor, the mikveh in an adjacent house.
Therefore, Balbronn has two synagogues, the old synagogue from the seventeenth or eighteenth century and the new one, located on rue des Femmes.
The Jews of Balbronn constituted up to the fifth of the local population (at its peak in 1882, the community was of 207 on a total of 997 inhabitants) and they seemed to have got along harmoniously with their neighbours.
The new synagogue was built in 1895 in a neo-Roman style. Sacked by the Nazis during the Second World War, it was renovated and reopened in the 1960. The building is registered national heritage since 1999 but the synagogue isn't in service since 1989. The synagogue can be considered a jewel of the neo-Roman style and more particularly of the Rundbogenstil style from the nineteenth century.