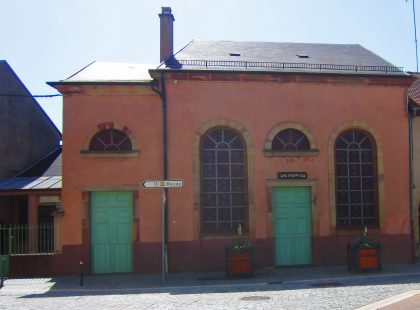 Forbidden to stay following pressure from local merchants, the first Jews to settle in Sarrebourg did so after the French Revolution and national emancipation. The first birth of a Jew in Sarrebourg therefore dates from 1794.
The community acquired land that could be used as a cemetery in 1812. An oratory was installed a few years later on the first floor of a house. A  synagogue was officially opened in 1857 rue du Sauvage on land acquired twelve years earlier, in particular thanks to the activity of Léon Lippmann, an emblematic figure of the Saarebourg Jews.
In 1889, the Jews constituted nearly 10% of the population of Sarrebourg. Jules Lévy became mayor in 1877.
Seventy-five people will be deported and murdered during the Shoah. As in other cities in the region, the US military chaplaincy is helping to rehabilitate the synagogue after the Liberation.
The decline of the Saarebourg Jewish population has resulted in recent years keeping the synagogue open by a few worshipers, without an official rabbi. It is one of the last in the region still in operation. The Heritage Days allow each year to highlight its historical importance.