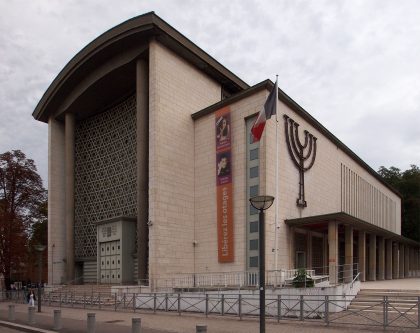 Jewish history is evident throughout Strasbourg. Indeed, it is said that rue de la Nuée-Bleue is named after the cloud (nuée) that went before the Jews expelled from the town in 1349, and that rue Brûlée recalls the 2000 Jews who were burned alive that same year when they refused to be baptized.
The monumental  synagogue on the Quai Kléber was destroyed by the Nazis in 1940 (a commemorative plaque has been placed to remind this fact).
The community's new place of worship was opened in 1958. Inside, you can note the admirable Holy Ark, whose bold forms set off a tapestry by the artist Jean Lurçat.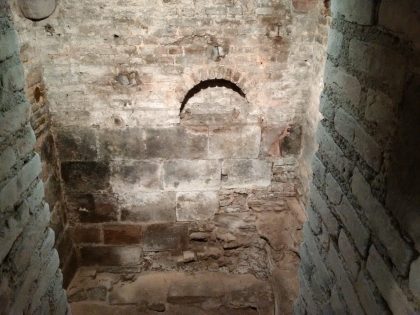 Discovered during construction work on rue des Juifs in 1984, a  mikvah was built in about 1200.
The central element is a ten-foot-square room built in gray sandstone and topped by red bricks. Romanesque-style corbels remain in each corner.
The Alsatian Museum (Musée Alsacien) features a reconstruction of a small country oratory and its bookshelf, complete with Torah scroll and Shabbat lamp.
There are two other rooms devoted to Judaism. Curiosities include a carved wooden Star of David with an imperial two-headed eagle from 1770.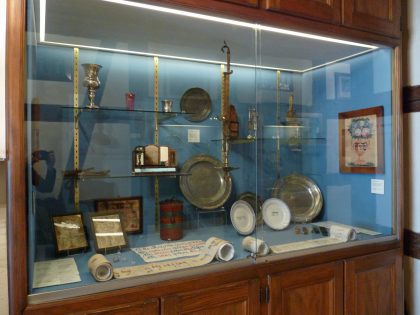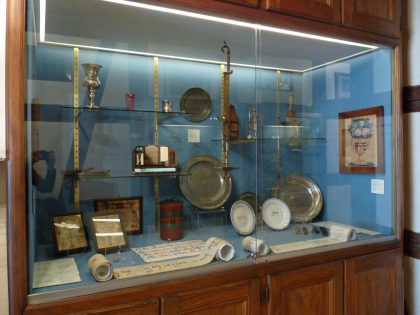 But also panels in Hebrew and French from the synagogue at Jungholtz calling down divine blessings on Emperor Napoleon III, and a painting commemorating the "unveiling of a Pentateuch in Reichshoffen on 7 November 1857"- a moving evocation of fervor and patriotism.
In the courtyard of the  Musée de l'oeuvre Notre-Dame, devoted to the arts in the Strasbourg region between the eleventh and seventeenth centuries, one can see Jewish headstones from the medieval cemetery located on the site of today's Place de la République.