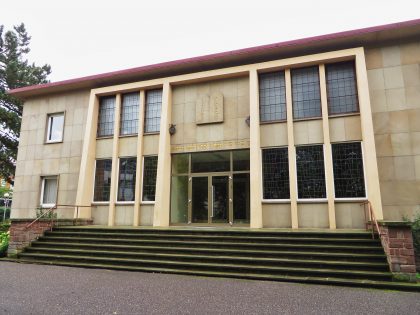 The Jewish presence in Sarreguemines seems to date from the 13th century. However, the sustainability of this installation will only take place with the wind of emancipation of the French Revolution.
A rabbinical seat was created in the city in 1791. There were 350 Jews from Sarreguemines in 1861. That year, a Byzantine-style synagogue was built on rue de la Chapelle. The Jewish population increased following the arrival of German refugees after the war of 1870 and that of Polish refugees in the interwar period. A Jewish cemetery was established in 1899.
The Shoah caused many victims in the region, especially in Sarreguemines. 95 Jews from Sarreguemines were deported out of the 395 present in the city. And five fall with arms in hand to defend France. The synagogue was destroyed in 1940 by the Germans and the cemetery very degraded.
Sixty-six Jewish families are still present at the Liberation. The contemporary-style  synagogue was rebuilt in 1958. A moving inauguration ceremony took place in March 1959, in the presence of local authorities. Visits to the synagogue and other places where traces of this long Jewish presence can be found in the city are organized regularly, especially during Heritage Days.