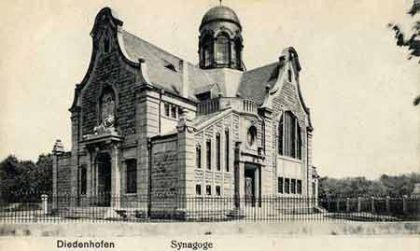 The Jewish presence in Thionville probably dates from the 14th century. There seems to have been a Jewish cemetery in the following century. Very few families were granted the right to settle in the city before the end of the 18th century, deserting the surrounding small rural communities. 14 Jewish families lived in Thionville in 1795.
A synagogue was built in 1805, rue de la Poterne. A three-storey house that will be refurbished, in use until 1912. That year it was replaced by the synagogue located on Boulevard Clemenceau.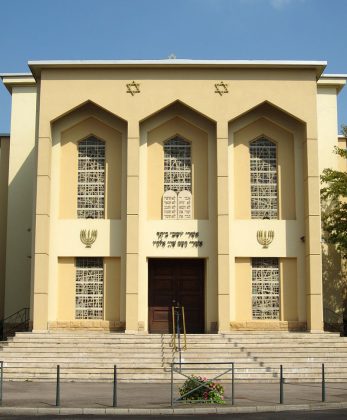 40 Jewish families from Thionville lived there in 1812 and 332 in 1910, a figure increased by the arrival of German Jews. The number declined in the interwar period to reach 281 families in 1931.
During the Holocaust, five Jews were shot by the Nazis and 30 families deported. Also, the  Jewish cemetery was ransacked and the  synagogue destroyed by the occupier during the war.
This was rebuilt in 1957 in a modern style with a dome topped with a Star of David. It is located on rue Henri Lévy, a name given in homage to the rabbi deported and assassinated at Auschwitz in 1944.
The Jewish community was reconstituted with the help of chaplains from the American army.
A community center was opened in 1966 and Thionville Judaism remains very active.