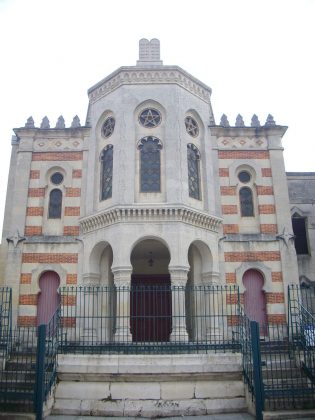 The presence of Jews in Verdun was fleeting in the Middle Ages, often banned from settling there. Despite this, some Tossafist scholars of Verdun are references like Samuel Ben Hayim and Samuel Ben Yosef.
Even in the 18th century attempts to settle Jews in the city for a long time met with little success and led to expulsions.
The Jewish community was perpetuated at the time of the French Revolution and was attached to the consistory of Nancy. It had 217 members in 1806.
The city of Verdun has a synagogue and a  Jewish cemetery. A first synagogue was built in 1805, but was destroyed during the war of 1870. The current  synagogue, classified as a historical monument, was built in the years following the conflict, in a Hispano-Moorish style.
Only a dozen Jewish families still live in Verdun and the synagogue is mainly open during major holidays only, for lack of minyan.