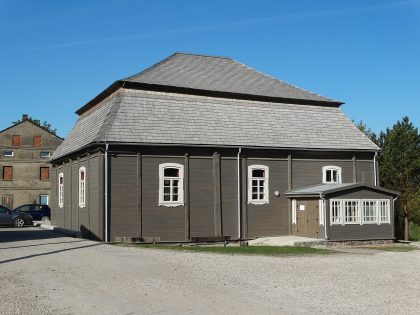 The town of Pakruojis is situated on the river Kruoja and was founded in the 15th century. The wooden synagogue dating from 1801 is probably the oldest of its kind in the country. Between the wars, the building was used as both a synagogue and a primary school.
The Jewish population was massacred during the Holocaust. After the war, the building was converted into a cinema and then abandoned. A fire heavily damaged the building in 2009, prompting a fundraising campaign to restore the site. This was undertaken in 2015, with the help of old photos of the synagogue. And thanks to the local authorities and the help of other European countries, mainly Norway.
Following the restoration, the building housing the former synagogue was reopened in May 2017. Since then, it has been used as a venue for the daughter's public bookshop, as well as hosting cultural events. A permanent exhibition upstairs, where women used to pray, gives visitors an insight into the history of the Jews of the Pakruojis region. A Jewish cemetery is located outside the town on the road to Linkmuciai and was restored in 2011.