Synagogue and Jewish Museum of Trondheim
Arkitekt Christies gate 1B, 7012 Trondheim, Norvège
Holocaust Memorial of Trondheim
Thomas Von Westens Gate, Trondheim, Norvège
Trondheim's synagogue is doubly unusual: it is the northernmost synagogue in the world and the only one that, for a time, served as a train station! The Jewish community in Trondheim has never really recovered from the mass deportation of its members in March 1942. The city's Jews were arrested by the Norwegian police and were detained at the Falstad camp, near Trondheim.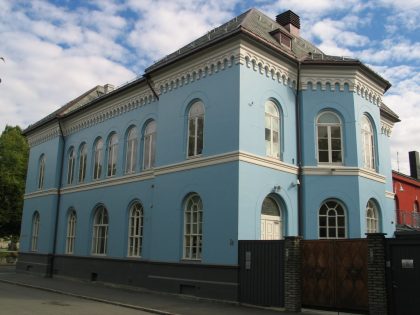 Today, the synagogue also welcomes the city's Jewish Museum. The latter proposes two permanent exhibitions. One devoted to the life of Jews in Trondheim and in the area. A second one focuses on the historical aspect of the Jewish community in Trondheim, especially during the Holocaust and the impact thereafter. Educational programs are organized and proposed by the museum.
A   Holocaust Mémorial has been built at the city's cemetery.