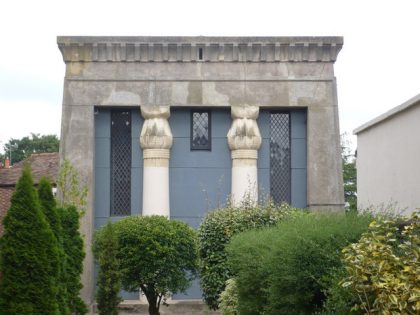 The Jewish community in Canterbury appears to be very old. But the earliest administrative record dates back only to 1760, with the purchase of land for a burial.
A synagogue was built at that time in St Dunstan's. Following the expansion of the railroads in the mid-19th century, the land was requisitioned. A new  synagogue was inaugurated in 1848, thanks in part to the financial support of Moses Montefiore.
The architecture of the synagogue is very original with its Egyptian style columns, but also because of the materials used in its construction, such as the cement chosen. It also had a mikveh in the same Egyptian style. The building was later sold, as a result of the decline in the Jewish population sold. Nevertheless, it still remains in its current state, attracting many visitors. The building is attached to the King's School, which lends the site to local Jews for the celebration of major holidays.
At the turn of the 21st century, the Jewish population was 210. A  Jewish cemetery dating from 1760 is located north of Whitstable Road and contains 150 graves.