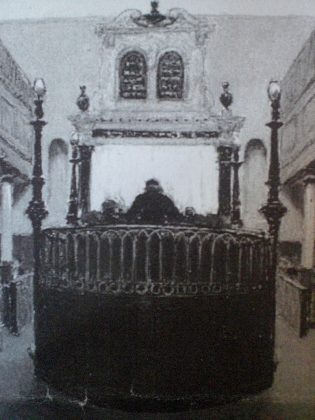 The Jewish presence in Exeter is very old, dating back to at least the 12th century, and at the time of the expulsion of the Jews in 1290, about 40 families lived there. During the gradual return of the Jews a few centuries later, Italian Jews made up a significant part of the community.
The  Exeter synagogue dates from 1763. This makes it one of the oldest synagogues still standing in England. Restoration work was undertaken in 1998 and again in 2013 on the synagogue's 250th anniversary. It was located in a discreet corner of the city as was the custom at the time.
A beautiful and ancient synagogue
It is Orthodox in style and its aron is made of wood. There was a heder adjacent to the synagogue until the 1960s. A  Jewish cemetery is located on Magdalen Road and dates from 1757.
Currently, few Jews live in Exeter. Most of them are university students.
In 2018, the synagogue was the victim of an anti-Semitic attack, when an individual tried to set it on fire. An outpouring of cross-cultural solidarity ensued. The synagogue was closed for months while repairs were made. The synagogue is still a very popular place because of its age and the religious and cultural events it organizes.