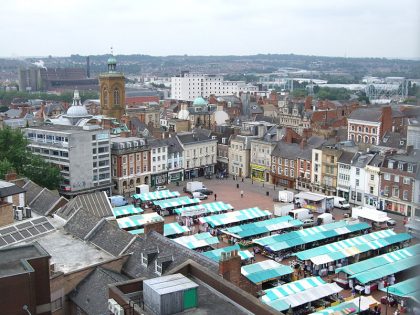 The Jewish presence in Northampton probably dates from the Middle Ages. In the 12th century it was one of the largest communities in the country. During the 13th century they were sometimes welcomed, sometimes persecuted and excluded, depending on the rulers and directives.
Jews returned to the city over the centuries. A community was formed in the 19th century with the formation of the  Northampton Hebrew Congregation in 1888. Two years later it purchased a site for a synagogue on Overstone Road. It was destroyed and rebuilt on the same site in 1965.
The Jewish population was small from then until today, with a peak during the Second World War, when London Jews took refuge there. Thus, there were only 300 Jews in 1969 and 322 in 2001 and about 100 today. The Jewish community uses the  Towcester Road cemetery.
A  medieval synagogue was discovered in 2010 by Marcus Roberts, the director of JTrails, an organization researching English Jewish cultural heritage. It probably dates from the 13th century. It is located under a pub and a fast food restaurant.