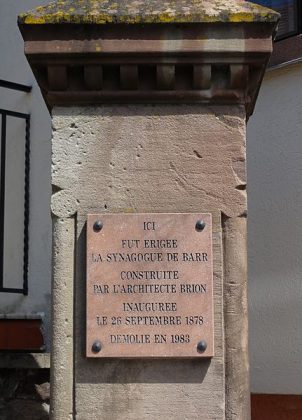 Banned from the communes attached to the bishopric of Strasbourg until the French Revolution, the Jews made a timid return to the region afterwards. Of the 800 Jews present in the surrounding villages in 1784, there were none in the town of Barr.
Nevertheless, the town gradually welcomed Jews, mainly from Zellwiller, allowing a community to take shape in the second half of the 19th century.
Thus, a prayer room was opened in 1860. In 1878, a synagogue was built, to which was added a meeting room and a mikveh. The community continued to grow, even though many Jews left Alsace after the defeat of 1870 to remain French.
As a sign of this evolution, from 1910 to 1944, the town of Barr hosted the seat of the rabbinate, succeeding Dambach-la-Ville.
Nevertheless, the Jewish population declined and in 1920, there were less than 400 Jews in Barr and its region. On the eve of World War II, only about 40 Jewish families lived there. During the Occupation, 25 Jews fell victim to the Nazis and the synagogue was devastated.
Although efforts were made after the war to redevelop the synagogue, the building was ultimately demolished in 1982. This decision was made after a corner pillar collapsed. In order to preserve some of the elements and highlights of the Barr synagogue, these stained glass windows were salvaged and added to the oratory in the Meinau. Sculptures, including the Tables of the Law, were preserved in the park of the Elisa Foundation in Strasbourg.
Most of the Jews of Barr were buried in the Rosenwiller cemetery.
Sources : http://judaisme.sdv.fr