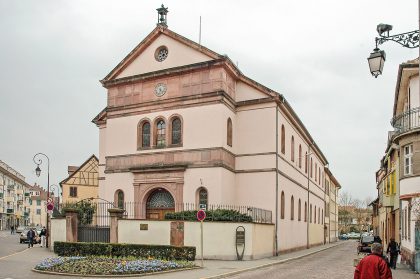 The Jewish presence in Colmar probably dates from the 13th century. Administrative documents confirm this presence. A synagogue was destroyed in 1279.
The community grew, in particular thanks to the arrival of Jews from Rouffach and Mutzig. Thus, in the 14th century, it managed a synagogue, a mikveh, a reception hall and a cemetery. Persecuted during the Black Death, the Jews were readmitted to Colmar at the end of the century. Throughout the following centuries, the Jews of Colmar were sometimes readmitted and sometimes victims of injustice. It was only after the French Revolution that their lot improved, with access to citizenship, as in the majority of the country. A first synagogue opened at the very end of the 18th century.
In 1800, there were 140 Jews living in Colmar. In 1808, Colmar welcomed a consistory on which 25 surrounding communities depended. Fifteen years later, the city also hosted the headquarters of the Chief Rabbinate of Alsace.
The Jewish population increased significantly, reaching 513 in 1833. In 1843, the  synagogue of Colmar was inaugurated and represented one of the most beautiful architectural monuments of the city. This number doubled on the eve of the 1870 war. As many Jews left the region following the defeat, the fall stopped and the Jewish population even increased in the 20th century, reaching its peak of 1200 in 1935. The Shoah claimed many victims in the region and affected a third of Colmar's Jews. The synagogue was ransacked by the occupiers. After the war, Jewish life was rebuilt thanks to the arrival of Jews from North Africa. Thus, in 1990, there were 1000 Jews in Colmar.
Old cemeteries on the road to Rouffach and at the Theinheim gate were used before 1800, and then the  Ladhof cemetery.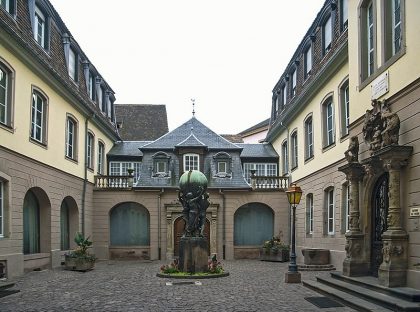 The  Bartholdi Museum pays homage to the sculptor of the Statue of Liberty. One room features an interesting collection of Judaica. Particularly admirable is a bowl used by the brotherhood charged with final duties (Hevra Kadisha); it is in the form of a coffin with bearers (mid-nineteenth century). There are also precious examples of circumcision chairs and an ablution fountain from the cemetery at Herrlischeim.
In 2021, the PMC in Colmar hosted a conference on René Hirschler, a rabbi who took part in the Résistance. At this event, Alain Hirschler paid tribute to his parents. The youngest rabbi in France at the age of 23, René Hirschler was appointed to Mulhouse in 1929, then became Chief Rabbi of Strasbourg. Mobilized in 1940, he was appointed by Vichy as the Jewish chaplain of the camps in the southern zone. This appointment allowed him to organize with his wife Simone an assistance and rescue of prisoners. Simone and René Hirschler were arrested and died in deportation in 1944.
Sources : Encyclopaedia Judaica, judaisme.sdv.fr et dna.fr