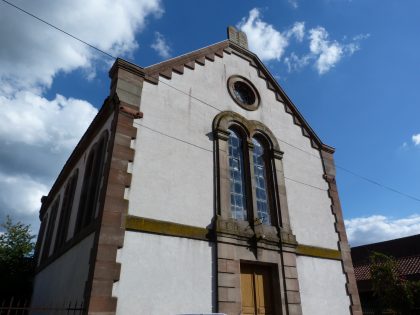 The Jewish presence in Diemeringen seems to date from the 17th century. Only 14 Jewish families lived there on the eve of the French Revolution.
The community of Diemeringen was organized – synagogue, religious school and mikveh – around the rue des Juifs (today rue du Vin). The community grew mainly in the 19th century, reaching 139 people in 1870. The war, and then the rural exodus, concentrated the population in the large cities, and the community dropped to 94 faithful in 1910.
The synagogue was built in 1867. Restored in 1906, it was ransacked during the Second World War. It was returned to worship in 1947. Services are still sometimes held there, despite the few Jews still living in the city.
Adjacent to the synagogue are the mikveh and the rooms that housed the Jewish school. On the outskirts of the town, next to the communal cemetery, is a  Jewish cemetery probably dating from 1750.

Sources : judaisme.sdv.fr