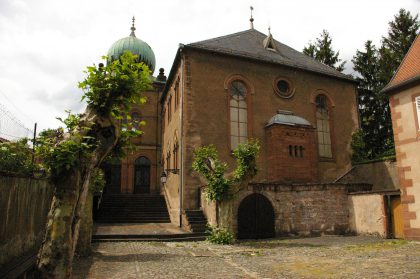 The Jewish presence in Ingwiller seems to date from 1347, the date of an administrative document attesting to this. Under the regency of the Counts of Hanau-Lichtenberg, they enjoyed greater individual and economic freedom than many other towns in the region.
The Jewish community grew throughout the 18th century, from 13 families in 1716 to 25 in 1766. The development of spiritual life accompanied this evolution, with a house of study being established in 1770 and a synagogue six years later in the Hintergasse. At that time, the city had 158 Jews.
The astonishing synagogue of Ingwiller dates from 1822 for its oldest part and was enlarged in 1891. Its exterior appearance may be surprising: in fact, it was built on the foundations of the castle of the Counts of Lichtenberg. The copper bulb in oriental style dates from 1913. A Jewish elementary school was officially recognized by the local authorities in 1836.
The Jewish population of Ingwiller reached 500 in 1842, then 322 at the turn of the 20th century. A large part of them left the region in order not to remain French following the defeat of 1870, others emigrated to the United States.
The Holocaust claimed many victims among the Jews of Ingwiller. The synagogue was ransacked by the occupiers. It was repaired in 1948, allowing the beginning of the Jewish year celebrations to be held there from 1949. Less than a hundred Jews lived there in 1954 and 28 in 1987, mainly because of the aging of the population and socio-economic changes. Today, the Jewish community in Ingwiller consists of a few people.
The Jewish cemetery dates from 1809 and was enlarged in 1938.
Sources : judaisme.sdv.fr