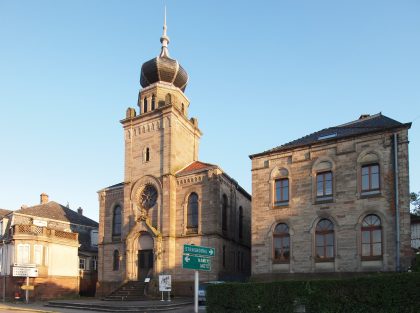 The Jewish presence in Saverne seems to date from the 12th century. Nevertheless, its perpetuation dates rather from the 17th century. An oratory dating from this century would have been located in the Judenhof of the time. On the eve of the French Revolution, a synagogue was built in the same area. However, it was destroyed by fire in 1850.
In 1898 the construction of the new synagogue officially began under the direction of the architect Hannig. The  synagogue was inaugurated in 1900 in a neo-Gothic and Oriental style. An adjoining building was used for school and community activities.
This same synagogue, which was inaugurated by the German authorities in 1900 when they occupied the region, was ransacked during the Holocaust forty years later. The Jews of Saverne, who numbered more than 200, were expelled and arrested and 32 of them were murdered. On April 4, 2022, 13 Stolpersteine, or "stumbling stones" of remembrance, were laid to honor the victims of the Holocaust.
A reconstruction was undertaken after the war. The re-dedication took place on September 3, 1950. Despite the gradual decline of the community, many initiatives kept it active. In 2001, the community consisted of about 40 people. A ceremony was held in 2021, accompanied by the publication of a brochure, to celebrate the synagogue's 120th anniversary.
Sources : judaisme.sdv.fr