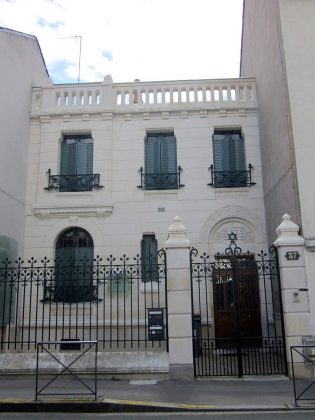 The Jewish presence in the city of Tours dates from at least the 6th century. In the Middle Ages there was a rue de la Juiverie, as well as a Jewish cemetery. However, as in all cities of France, this ancient presence came to an abrupt end with the expulsions of the late Middle Ages.
Unlike many cities, the emancipation of Jews from France following the Revolution was slow to materialize in Tours. The Jewish community did not take shape until the end of the 19th century, mainly from 1860.
Rabbis officiated in prayer rooms but the first synagogue was built in 1907 by the architect Victor Tondu thanks to a donation from the patron Daniel Iffla, Osiris said. Its stained-glass windows are signed by Lux-Fournier, glass painter in Tours. Its first rabbi, who practiced until 1937, was Léon Sommer.
In the interwar period, the Jews of Touraine saw their numbers increase, in particular thanks to the arrival of Jews from Turkey, Greece and Eastern Europe.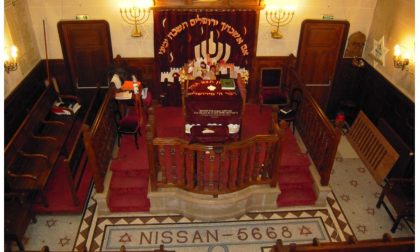 During the Second World War, the Jews of Touraine were arrested and interned in the camp of La Lande in Monts.
While a party managed to join the bush or go into hiding, three quarters of the members of the community were deported and died during the Shoah. The survivors set out to rebuild the sacked  synagogue and Jewish life in the city of Tours.
On April 19, 2005, Simone Veil inaugurated the stele in homage to the 34 Righteous of Indre-et-Loire (42 today), which is in the courtyard of the synagogue.
Among these Righteous, Léa Keresit, nurse at Saint-Gratien Hospital, who actively participated in a group of smugglers who saved many Jews.
The 1960s saw the arrival of Jews from North Africa, forming the majority of people of the Jewish faith today.
Created in 2009, the Israelite Cultural Association of Indre et Loire participated with the local authorities in the organization the following year of numerous events marking the 150th anniversary of the community.
In 2019, a ceremony was held Tours' City Hall to pay tribute to the 1,019 Jews deported between 1942 and 1944, of whom only 38 returned.
The work of the Association for Research and Historical Studies on the Shoah in the Loire Valley (Areshval) made it possible to find these names.