Béziers museum
Musée du Biterrois, Rampe du 96EME Régiment d'Infanterie, Béziers, France
Saint Nazaire cathedral of Béziers
2 Impasse Baudin, 34500 Béziers, France
Rue du 4 septembre, Béziers
28 Rue du 4 Septembre, Béziers, France
Rue de la petite Jérusalem, Béziers
Rue de la Petite Jérusalem, Béziers, France
Rue du Capus, Béziers
Rue du Capus, Béziers, France
Rue du Soleil, Béziers
Rue du Soleil, Béziers, France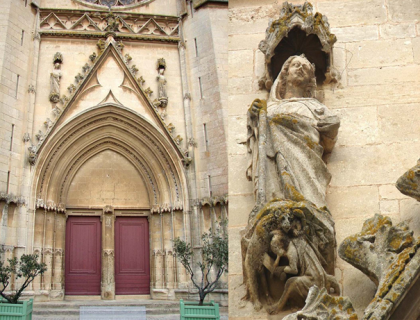 The Jewish presence has been attested in Béziers since Roman times, but the golden age of the Jews of Béziers is undoubtedly the classical Middle Ages, when the city was nicknamed the "Little Jerusalem", both because of the importance of its community that of the sight that one had from the plain of Orb and that resembled that of Jerusalem.
Its rabbinical school was renowned, and Benjamin of Tudela, in his travel notebook will evoke a city "where wise men abound". Many rabbis and scholars adopted the nickname" Beders "(Béziers in Hebrew), in honor of their city, including the poet Abraham Bedersi and his son Jedaiah.
The situation of the Jews of Béziers was much more enviable than that of their Languedoc co-religionists, thanks to the protection of the vassals of the region, the Trencavel, who used the support of the Jewish community to govern the city. This golden age came to an abrupt end in 1209 during the Albigensian Crusade unleashed by Pope Innocent III.
Béziers then Carcassonne fell into the hands of the Crusaders. 200 Jews perished at the sacking of Beziers, the remaining 200 had already left the city under the protection of the viscount.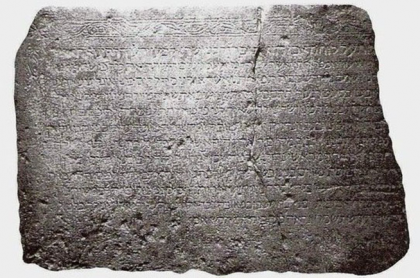 At the fall of Carcassonne, the Jews of Béziers took refuge in Catalonia and rebuilt a community in the small town of Olot. They engrave the dedication of their new synagogue in a stone, inscribing the pain of exile, and the loss of their city. The toponym is Béziers in Hebrew, "Beders", and the war to which it is referred is dated 4969, which corresponds to the year 1209 of the common era. It is therefore an evocation of the crusade of the Albigensians.
This stone was found in the 1940s, in the ruins of the chapel of the cemetery of Olot, burned at the beginning of the Spanish Civil War. It is currently exhibited at the museum-treasure of Sant Estève of Olot church.
A few years later, the Jewish refugees at Olot, or part of them, return to Béziers. They erect a new synagogue. The dedication is dated, from the year 4900 … 4. The vintage is missing, because of a break of the stone, but research has led to deduce that it would be the year 1214. It is currently exhibited at  Béziers museum.
In this same museum, you can admire the most beautiful and the largest Hebrew inscription preserved in France, poem of 12 lines made up of "centons" biblical; the tombstone of "Daniel, son of Rabbi Paregores"; or the model and plan of Béziers in the Middle Ages, locating the synagogue of the time.
On the western facade of the  cathedral Saint Nazaire two allegorical statues representing, one the "synagoga" deprived of its attributes and blindfolded, the other the "ecclesia" triumphant. Inside the cathedral, you will find in two places the Hebrew letters of the divine tetragrammaton.
Finally, if you walk in Béziers, some streets reminds of the Jewish past of the city. At  28 street du 4 septembre is the site of the former royal synagogue, where the Hebrew stone of Béziers was found.  The Petite Jerusalem street, leads to the former episcopal Jewry, located on rue Boudard. unfortunately destroyed in 1944. The streets of  Capus and  Soleil, are the vestiges of a former Jewish quarter surrounded by the 2 branches of the "U" drawn by the street of Capus, and whose Roman porch which controls the entrance of the street of the sun would have been the access door. Regular events are organized in Béziers. For more information about the upcoming events you can check www.memoirejuive-beziers.org
Source and photo credit : Association Mémoire juive de Béziers