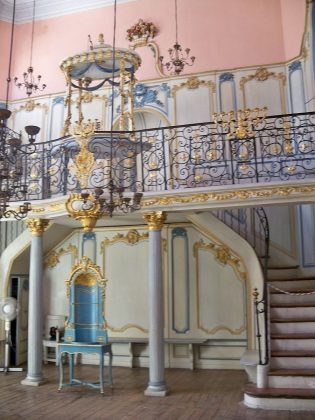 The Jewish presence in Cavaillon goes back to at least the thirteenth century. The Jews lived on rue Hébraïque, which became their obligatory residence in 1453 and has changed very little since.
Permission to build a synagogue was granted in 1494, and it was probably on the vestiges of this older building that the new place of worship was built in 1772. On the second floor is the men's school; the bread oven and the women's school, which also served as a bakery, were on the first floor.
The arrangement is unusual in having preserved its original plan, which consists of two distinct elements: the synagogue, which forms a covered passage above rue Hébraïque, and the mikvah, located in the basement of the courtyard and reached by a stairway with seventeen steps.
The synagogue is laid out on the same model as that in Carpentras, with wood and ironwork, fluted columns, the Chair of Elijah, the tabernacle set into the wall, and the tevah above supported by four wooden columns. But unlike the Carpentras synagogue, the bakery/women's school has no direct access to the upper part of the structure (the men's school and synagogue). In this room there is a domed stone over, a kneading table, and he Judeo-Comtadin museum, which has one of the oldest archaeological relics of the Jewish presence in France: an oil lamp found in an oppidum near Orgon. The lamp dates from the first century C.E.
You can find some additional info about this beautiful region on this link : https://www.luberoncoeurdeprovence.com/decouvrir/villes-et-villages/cavaillon