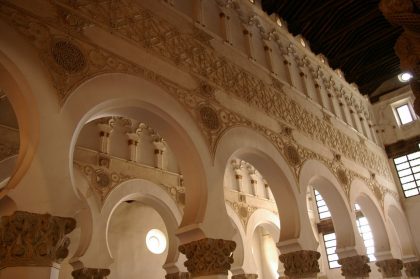 The presence of Jews in Castile and León is attested as far back as the tenth century. Over the centuries that followed the rulers granted the Jews the same rights and duties as of the Christians. The rulers considered the Jews their personal property and, throughout the period of reconquest, the community helped with the administrative and commercial organization of the conquered territories. In the twelfth century, royal legislation sought to protect the Jews from the growing risk of violence by grouping them in special quarters around the king's or archbishop's palace, or within the shelter of its walls. Unfortunately, war between Christian kingdoms was rife in this period and the Jews often suffered the consequences.
In the thirteenth century Toledo  became the capital of Castilian Judaism. The so-called "Huete census" of 1290 provides a reasonably faithful map of Jewish communities in Castile and León.
The wave of violence of 1391 hit nearly all these juderías and marked the beginning of their decline, notwithstanding efforts to revive them at the meeting in Vallodolid in 1432. In 1492 the Jews expelled from these regions headed mainly for Portugal. Whatever material traces they left behind have, with only one or two exceptions, been destroyed.