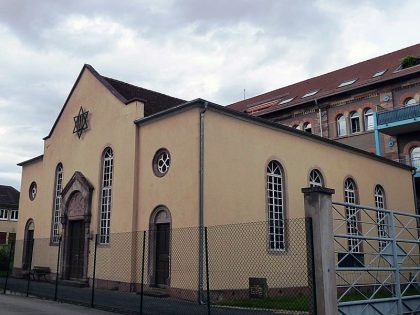 The Jewish presence in Benfeld dates back from the Roman Empire. During the Middle-Age the community was lively and as important as the one in Strasbourg. The Jews were expelled from the city during the 1349 black plague, then drawn or burnt on the same year during the Saint Valentin massacre. From this date, Benfeld was forbidden to Jews until the eighteenth century.
The community reformed in Benfeld in the nineteenth century. It grew until 1910 when there were about 200 Jews in the city. There were 98 in 1953, and today about twenty.
The synagogue was built in 1846 and extended in 1876. In 1922, the synagogue was decorated by the local artist Achille Metzger who took inspiration from the Florence's synagogue frescoes. Thanks to the courage of the city's mayor, the synagogue went through the war without being sacked. It is remarkably one of the only synagogue of the region which wasn't destroyed.
Many efforts have been made by the regional authorities and the communities to (re)discover the Jewish cultural heritage of Benfeld. For example, during the European Days of Jewish Culture in 2021, the old Jewish cemetery was opened to the public for the first time in a long time, allowing about 50 people to visit it. During these festivities, 80 people visited the synagogue of Benfeld.
Sources : dna.fr