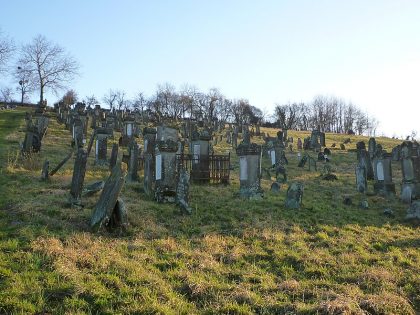 The Jewish presence in the villages surrounding Haguenau seems to date at least from the 14th century. In Ettendorf in particular, two Jewish families are recorded in administrative documents in 1449.
In the Middle Ages, Ettendorf was home to a large Jewish community and many scholars who came to study in its famous rabbinical school, sometimes with more than a hundred students.
Ettendorf is also home to one of the oldest Jewish cemeteries in the region. It was built in the 15th century, at the same time as the other large Jewish cemeteries in Alsace.
At the time of the great census of 1784, 124 Jews lived in Ettendorf. However, wars and the rural exodus caused their gradual departure over the centuries. From 37 Jews in 1868 to one family in 1926.
In 2019, the city dedicated an exhibition "On the traces of Jewish memory in Ettendorf" directed by Dorah Husselstein. Documents, objects and testimonies were presented.
Sources : Encyclopaedia Judaica, judaisme.sdv.fr