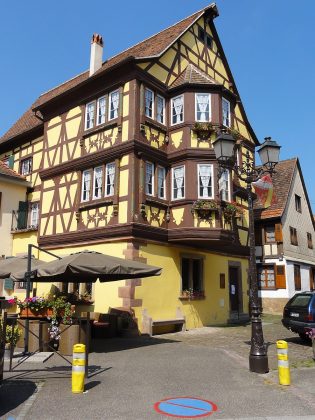 This small town lying in the shadow of an old abbey once had a very active community. You can still see the birthplaces of its two famous Jewish sons: the painter  Alphonse Lévy, who was born here in 1843 and died in Algiers in 1918 and whose work bore witness to Alsace's rural communities; and  Albert Kahn, born in 1860, who died in Boulogne-sur-Seine in 1940.
The synagogue, built in 1822 and now unused, can still be seen. Take rue Neuve out of the village. Once in the forest, you will come to a small cemetery built in 1799. Interestingly, though the engravings on the tombstones are in Hebrew, there are also brief annotations in the local language on the back. While these are sometimes in German on the oldest stones, they are all in French beginning from the annexation of Alsace by the Germans in 1870.
The Museum of Popular Arts and Traditions (Musée des Arts et des Traditions populaires) is housed in a fine timbered building dating from 1590 that was home to Jewish families without interruption from 1680 to 1922. Here you can see the mikvah from 1710 and, in the kitchen, a flat oven that may have been used to cook matzhohs for Passover. The collection of Jewish cultural objects gives a idea of the size of the community in those days. Note in particular a remarkable curtain for the Holy Ark (1857) from the synagogue at Quatzenheim.