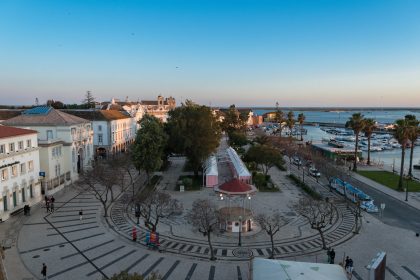 Capital of the Algarve region in southern Portugal, the city of Faro was home to a large Jewish community, expelled in 1497. A number of them continued to live there as conversos. Jews did not resettle "officially" in the city until the 19th century.
In the fifteenth century, the time of its peak, Faro was a well-known center of Hebrew printing. In 1481, Samuel Porteira printed the first book in the history of Portugal: an edition of the Pentateuch in Hebrew.
The Jewish Cemetery of Faro has 107 graves. It was in service between 1838 and 1932. The cemetery is included in the list of places of interest of the Portuguese Register of Historical Monuments. On the portal of the entrance is the date 5638 (1878), which is believed to correspond to the date of construction of the cemetery wall. The cemetery fell into decrepitude in the 1980s. Isaac Bitton, a native of Lisbon, founded in 1984 the restoration fund of the cemetery of Faro, which allowed its renovation in 1992-3. Inside the cemetery you will find a small museum dedicated to Jewish traditions, as well as a synagogue.
In addition to the cemetery, we know that in the 1850s there was a synagogue. At the beginning of the 20th century, there were about 50 families in the community. In the 1970s, there were only 5 Jews left in the entire region. Maroon descendants of the Faro community are found in Bayonne, London, Dublin, and as far as Jamaica.