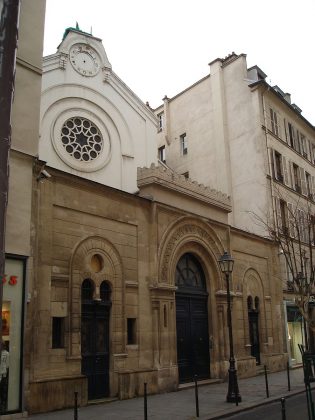 In 1182, King Philippe Auguste decided to expel the Jews from the capital. Synagogues were converted into churches and building owned by Jews were sold, with the proceeds going to the Crown. The sovereign used the sums thus amassed to build the keep of the castle at Vincennes and to put a wall around the nearby woods. Within Paris itself he built a market in the now deserted Champeaux quarter that became known as Les Halles. Thus the creation of the capital's famous old market (itself transferred to the suburbs in the 1970's) originated with the expulsion of the Jews.
Murder on the Petit Pont
One Saturday morning in the year 583, a Jew wearing his prawer shawl was crossing the Seine to go to the synagogue on Île de la Cité. His name was Priscus, and he was the moneylender to the Merovingian king Chilperic I. As he was walking along the Petit Pont, a renegate Jew, Phatir, threw himself on him and stabbed him to death. As related in Gregory de Tour History of the Franks, this crime constitutes the first historically confirmed event in the history of Parisiam Jewry.
Seventeen years later, however, those expelled Jews were called back to the capital. They settled in the Saint Bont quarter (near today's Pompidou Center), on rue des Rosiers, and on the left bank between rue de la Harpe and boulevard Saint-Germain. Indeed, the latter zone constituted the biggest juiverie (Jewry) of the day, as evidenced by the large medieval Jewish cemetery brought to light in the last century during construction work in the area. In the thirteenth century, under the authority of rabbi Yehiel, the Jewish School of Paris enjoyed great prestige. On 6 June 1242, after a theological disputation between the rabbi and Nicolas Donin, an apostate Jew, Saint Louis ordered that all the copies of the Talmud found in the city be burned at the Place de Grève (today's Place de l'Hôtel de Ville). Rabbu Yehiel left France for good and founded a new school at Acre (today's Acco). In 1394, Charle VI promulgated a decree prohibiting Jews from living in Paris. It was not until the Enlightenment, nearly four centuries later, that they were allowed back into the city.