Notre Dame de Paris Cathedral
6 Parvis Notre-Dame - place Jean-Paul-II, 75004 Paris, France
Musée de Cluny – Musée national du Moyen Âge
6 Place Paul Painlevé, 75005 Paris, France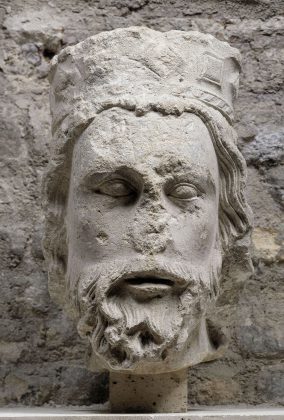 The sculptures on the Saint Anne portal of  Notre Dame Cathedral (Notre Dame de Paris) offer one of the most moving testimonies we have to medieval Judaism. The frieze in question, just above the doorway, dates from the late twelfth century. It represents the Virgin's mother, Saint Anne, meeting her future husband, Saint Joachim. The unknown artist used Parisian Jews as his models in order to represent these early Christians. The men have the long robes and pointed hats worn by Jews in medieval times.
The left-hand side illustrates Anne and Joachim's wedding. Wrapped in his prayer shawl, the rabbi stands between the betrothed, whom he takes by the hand. All the details here evoke the atmosphere of a Parisian synagogue. The artist has painstakingly sculpted the arks, the eternal lamp, and the piles of books that are so characteristic of Jewish life.
The iconography in the center is purely Christian: an angel announces the coming birth of Mary to the barren couple.
On the right, Anne and Joachim are taking their offerings to the synagogue. On the altar is a Torah scroll. The end of the frieze depicts two Jews in conversation. These stone figures convey images of Judaism from ancient times.
On the two central buttresses on the main facade, notice the niche on the right housing The Vanquished Synagogue, an allegorical statue by Fromanger depicting the eyes covered by a snake, a broken scepter, and crown trodden underfoot. The pendant statue on the left is The Church Triumphant by Geoffroy Dechaume. These sculptures were made during the restoration work undertaken by Viollet le Duc in the nineteenth century, replacing the original sculptures destroyed during the Revolution.
Just above them, the Gallery of Kings represents twenty-eight kings of Judah and Israel who, according to Christian tradition, were the ancestors of Jesus. In 1977, 364 fragments of sculptures from Notre Dame that had been smashed during the Revolution were found during work on rue de la Chaussée d'Antin. Although no traces of the Vanquished Synagogue were found, twenty one of the twenty eight heads of the kings of Judah and Israel were discovered. These are on display at the  Cluny Museum (Musée national du Moyen Âge des Thermes de Cluny).